Skip to end of metadata
Go to start of metadata
To get OneDrive and SharePoint to act more like a normal folder on your computer is explained below:
OneDrive
Each computer should have the programs OneDrive and OneDrive for business. These are similiar, but perform slightly different functions. For adding a OneDrive, you want the program OneDrive. When you run OneDrive for the first time, it will ask for you to put in your email. It uses this to work out whether you are a business customer or a home customer. It will bring up Office 365 and ask for a password.
Once logged in it will give you the option to change where the files will be stored, we recommend not changing it. Then the next slide lets you change what you sync, so you can omit some folders if you so wish. After you have decided that it will complete and will give you the option of opening the folder.
Note that this method is relatively easy, but has some drawbacks. It will download the files onto the computer, which means the initial sync will most likely take a while depending on the size of your OneDrive. Similiarly, when adding files they normally appear almost immediately, but larger files or folders might take a little while longer.
SharePoint
SharePoint can be added in a similiar way, but first you need the link for your SharePoint. Navigate to the SharePoint you want to add. You'll need to get to the documents section, easiest way to do this is to simply click Documents on the home page of the site. It'll open up a separate page of just Documents. If you've removed documents from your homepage, then a second way of doing it is to click Site Contents on the top bar or the side bar. In the list of Contents there should be an option for Documents. Once there copy the address from the address bar of your browser.
Now on your computer, open the app called OneDrive for Business. It'll immediately ask for you to provide your library URL, in here paste your copied link. It'll ask you to sign in to verify your identity, after which it will be exactly as in the above example. Note, if you've already used OneDrive for business before, opening the app will take you to previously synced librarys. However, it can be found in your tray, the little icons in the bottom right of the task bar, right click on it OneDrive for Business Icon (some blue clouds) and select Sync a new library.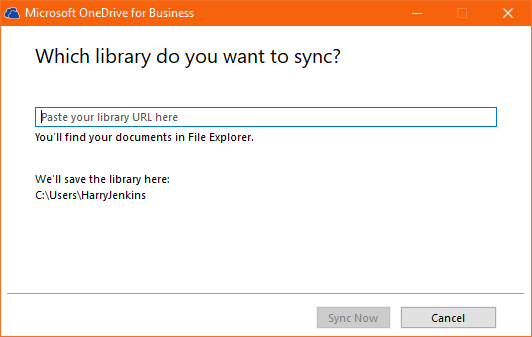 There's a second method with SharePoint which allows you to 'mount' the drive. With this method the end result means the files aren't copied, they're all kept on the server much like Users1. It is, however, a bit more complicated.
Firstly, you need to add your SharePoint to your 'Trusted Sites'. As above, you'll need to get to the Documents section of your SharePoint, easiest way to do this is to simply click Documents on the home page of the site. Copy the link from the address bar. Now search for Internet Options in the Windows Search bar, next to the Windows symbol. Go to the Security Option, select Trusted Sites which will have a green tick icon, and click Sites. In the box that says Add this website to the zone: paste your address.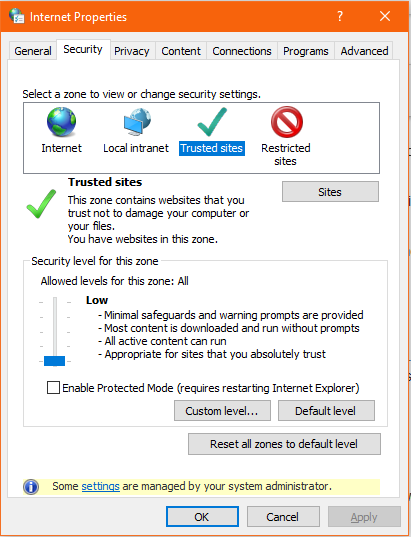 Now, open Internet Explorer, it is important not to get confused between Internet Explorer and Edge, there's a visual comparison below. Paste your link into the bar at the top and press enter. It will ask you to logon, make sure you tick the box that says keep me signed in.
Finally, go to This PC in File explorer. In the top bar, there will be an option to Map network drive, click this. A box will appear, set the Drive letter to be S:. Where it says folder, paste your link again, and click finish.
If you get an error, check to make sure that you can go to that link in internet explorer without having to press any buttons or do any logging in, if not then that's most likely the problem. Check to make sure your password is saved, and if its asking you about trusted sites just let it do whatever it needs and this shouldn't come up again.
The sharepoint link shouldn't look too different from a normal file path, say for example: \\users1\users1\everyone\Templates and Important Documents, a sharepoint link looks like: https://loughboroughsu.sharepoint.com/TechDept/ITDocs/Shared%20Documents/ its just the Users1 bit is a website and any spaces will be replaced with "%20". In this case, TechDept is the site and ITDocs is a subsite of that.